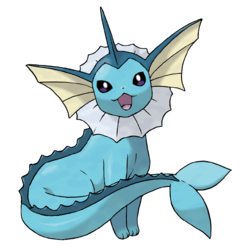 Vaporeon is the Water-Type Eeveelution. You evolve into it with a Water Stone.
Moves:
Helping Hand, Tackle, Tail Whip, Sand-Attack, Water Gun, Quick Attack, Water Pulse, Aurora Beam, Aqua Ring, Bubble Torpedo, Acid Armor, Haze, Muddy Water, Last Resort, and Hydro Pump.
Personality
Vaporeons are gentle, peace-loving creatures who live underwater. Their bodies are made of water-like material, so it can turn itself into water whenever it wants to. They love playing with their owners, are very creative, and love art.
Trivia
On the picture of "Vaporeon in the anime", Vaporeon's neck fur is yellow instead of white.
Picture Gallery