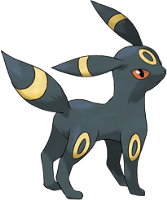 Umbreon is the Darkness-Type Eevee. Evolve into this by being very happy at night. (from 6:00pm-3:00am)
Helping Hand, Tackle, Tail Whip, Sand-Attack, Pursuit, Quick Attack, Confuse Ray, Feint Attack, Assurance, Screech, Moonlight, Mean Look, Last Resort, Guard Swap, and Dark Cannon.
Personality
Edit
Liking to be ninjas, Umbreons are stealthy, and playful eevees. Also, like most other eeveelutions, Umbreons are very loyal to their owners. They obey their every command, and love to help out.