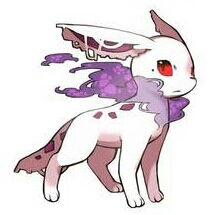 Toxieon is the Poison-Type Eeveelution! Evolve into it by leveling up in a Toxic Area.
Helping Hand, Tackle, Tail Whip, Sand-Attack, Heal, Torpedo, Toxic, Toxic Tail, Cross Poison, Poison Fang, Double Hit, Body Slam, Venoshock, Toxic, Last Resort, and Refresh.
Personality
Edit
Toxieons are sweet, but they can get REALLY angry. They poison opponents by secreting toxins from its fur, paralyzing and poisoning the foe until complete faint overcomes them.