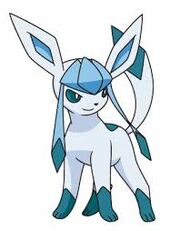 Glaceon is the Fresh Snow Pokemon. Also the Ice-Type Eevee. Evolve it by leveling up eevee near a patch of snow.
Helping Hand, Tackle, Tail Whip, Sand-Attack, Icy Wind, Quick Attack, Bite, Ice Fang, Ice Shard, Frost Torpedo, Barrier, Mirror Coat, Hail, Last Resort, and Blizzard.
Personality
Edit
They live in Snow covered mountains, usually near Snowpoint City in the Sinnoh Region. They are cute, kind, and like to play. They also have a sand attack. SAND?!?!