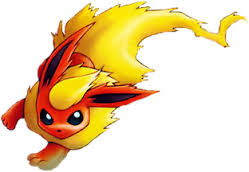 Flareon is the Fire Eevee. Evolve it with a Fire Stone.
Moves:
Helping Hand, Tackle, Tail Whip, Sand-Attack, Torpedo, Ember, Quick Attack, Bite, Fire Fang, Fire Spin, Flare Torpedo, Scary Face, Smog, Lava Plume, Last Resort, and Flare Blitz.
Personality
Flareons are loyal firey creatures. They live in Forests, and sometimes accidently cause a forestfire. They like taking orders, and are very very nice.