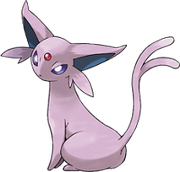 Espeon is the Psychic Eevee. You evolve Eevee into Espeon by making it very happy in the day.
Helping Hand, Tackle, Tail Whip, Sand-Attack, Confusion, Quick Attack, Swift, Psybeam, Future Sight, Psych Up, Morning Sun, Psychic, Last Resort, Power Swap, and Light Cannon.
Personality
Edit
Espeons don't really have a Personality. Just like Eevees, they are unpredictable. Unless it lets you know. Each one is unique.